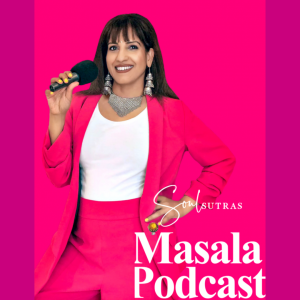 Winner of British Podcast Awards 2020 & 2019 as well as Spotify SoundUp competition 2018
Over 60k downloads over 3 seasons
Now a Spotify Original Podcast
Seen as a top podcast for womxn of colour, bringing rarely heard experiences & narratives to British media
Season 3 features media star Anita Rani, music legend Anoushka Shankar, Indian celeb Shobha De, India's biggest sex positivity expert Leeza Mangaldas, female condom creator Farah Kabir & many other amazing women
Episodes exploring the modern day Kamasutra, female sexuality, pleasure & contraception. Lots of taboo topics covered: from menopause, mental health to…nipple hair
Featured in The Observer, BBC Radio, Cosmopolitan, The Evening Standard, Sunday Times Podcast Supplement, Michaela Coel's "I May Destroy You", Women's Health Australia & many more
A podcast creating social change • Interviews with poets, porn stars, comedians, burlesque dancers, drag queens, mental health specialists, acclaimed writers as well as queer & non-binary folks • With reflections & personal experiences from creator Sangeeta Pillai on being a South Asian feminist
ABOUT SANGEETA PILLAI
Sangeeta grew up in a traditional family in India, spending her early years in a Mumbai slum. As a young child, she saw her mother being abused violently daily by her alcoholic father. This led her to battle all her life to have different choices as a woman & to become a staunch feminist.
She set up Soul Sutras & Masala Podcast so South Asian womxn could have open discussions around taboo topics, thus removing the shame and trauma often attached to them. And helping everyone heal together.
Sangeeta feels she couldn't help her mother. But she can help other South Asian women with her work.
Sangeeta Pillai's network is also behind the Masala Monologues series of writing workshops & theatre shows in the UK & the US.
TALKING NUMBERS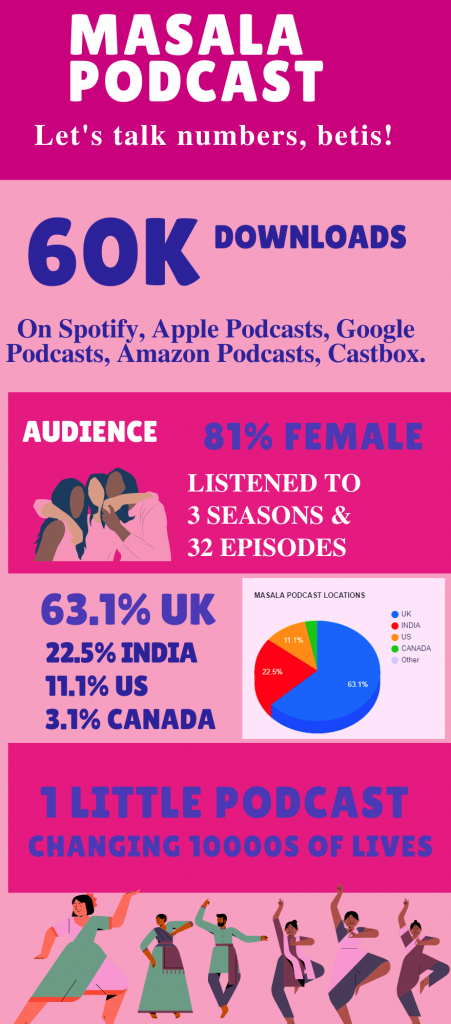 LOVED BY LISTENERS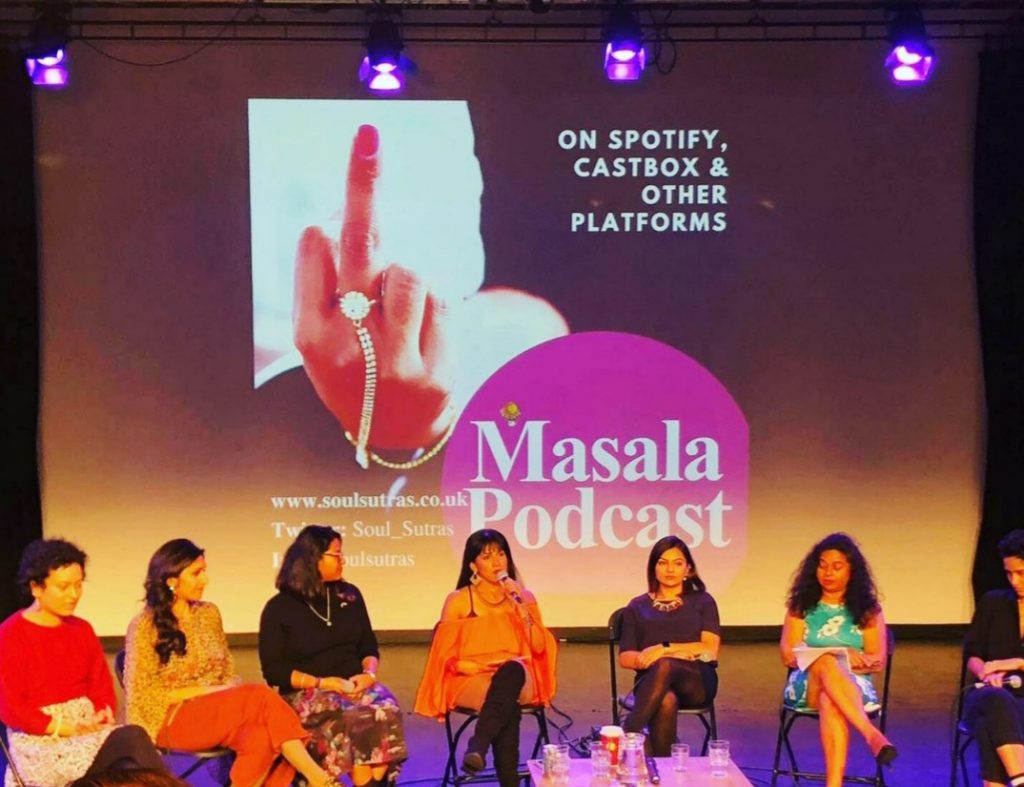 PRESS FEATURES
BBC Radio 2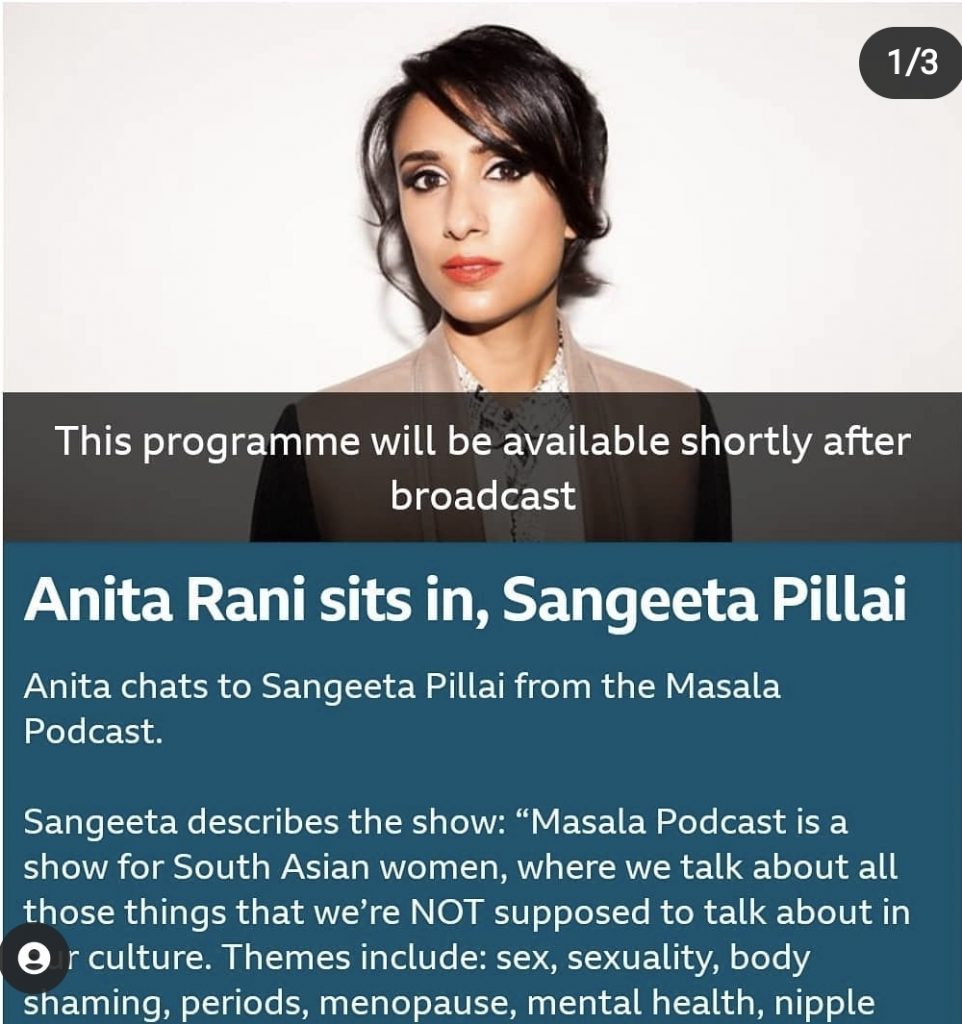 The Observer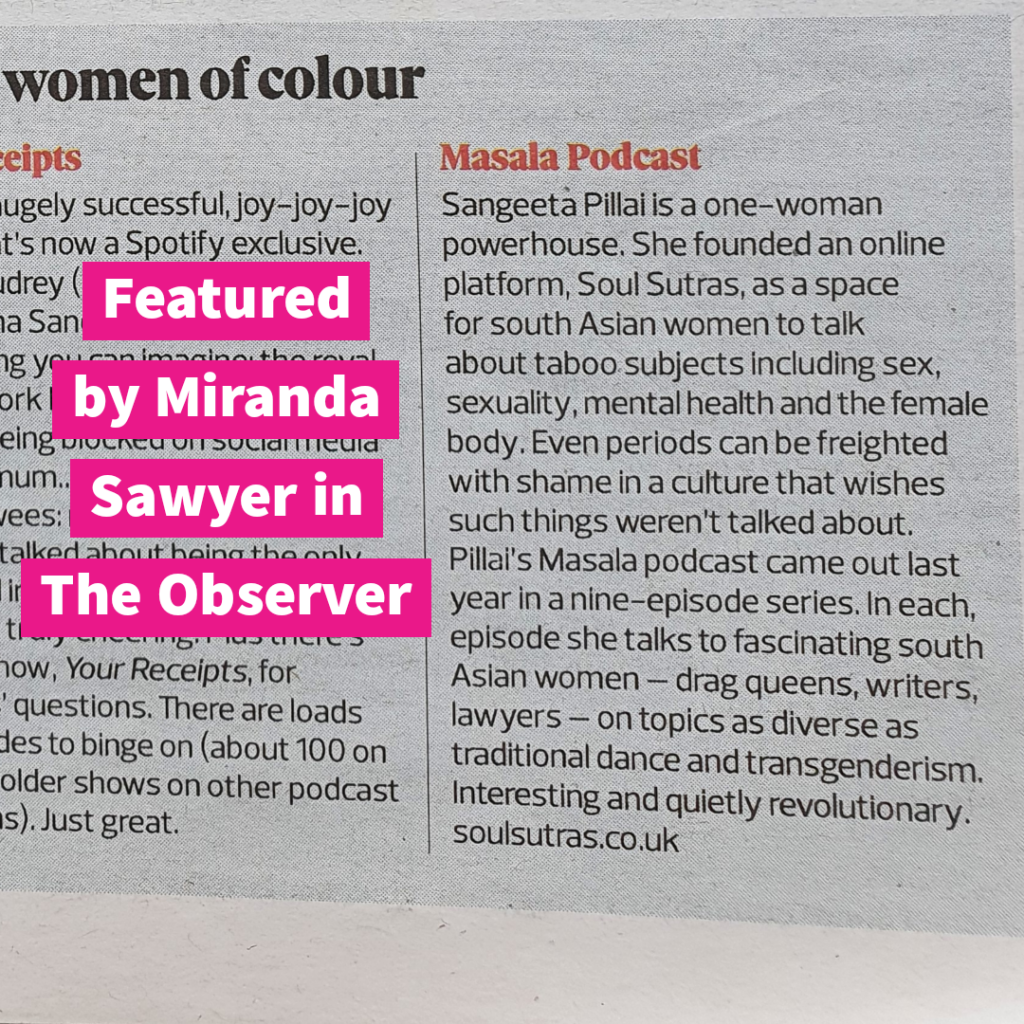 The Evening Standard
Women's Health Australia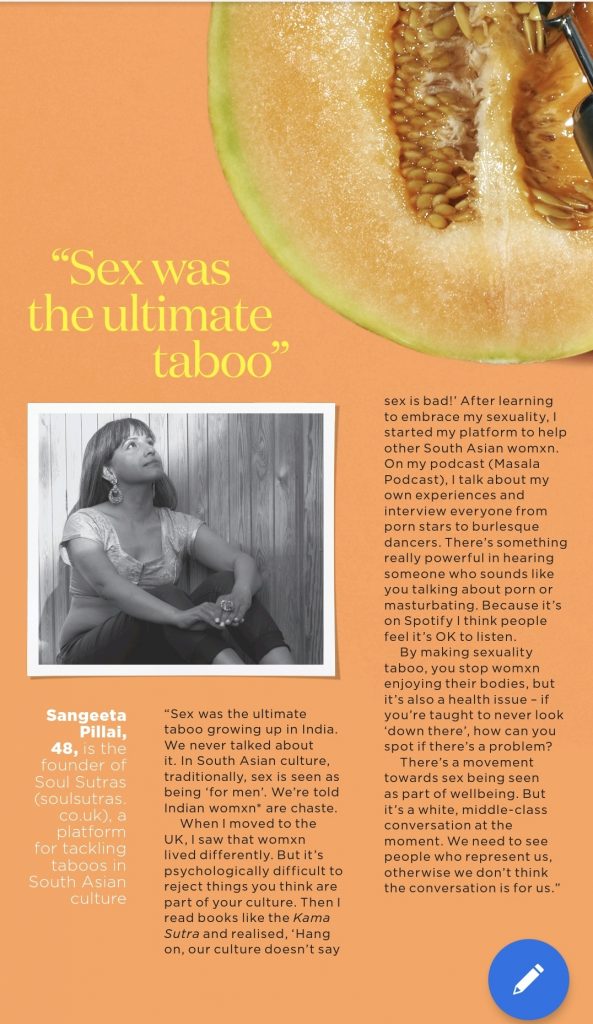 Sunday Times, Pod Bible Podcast supplement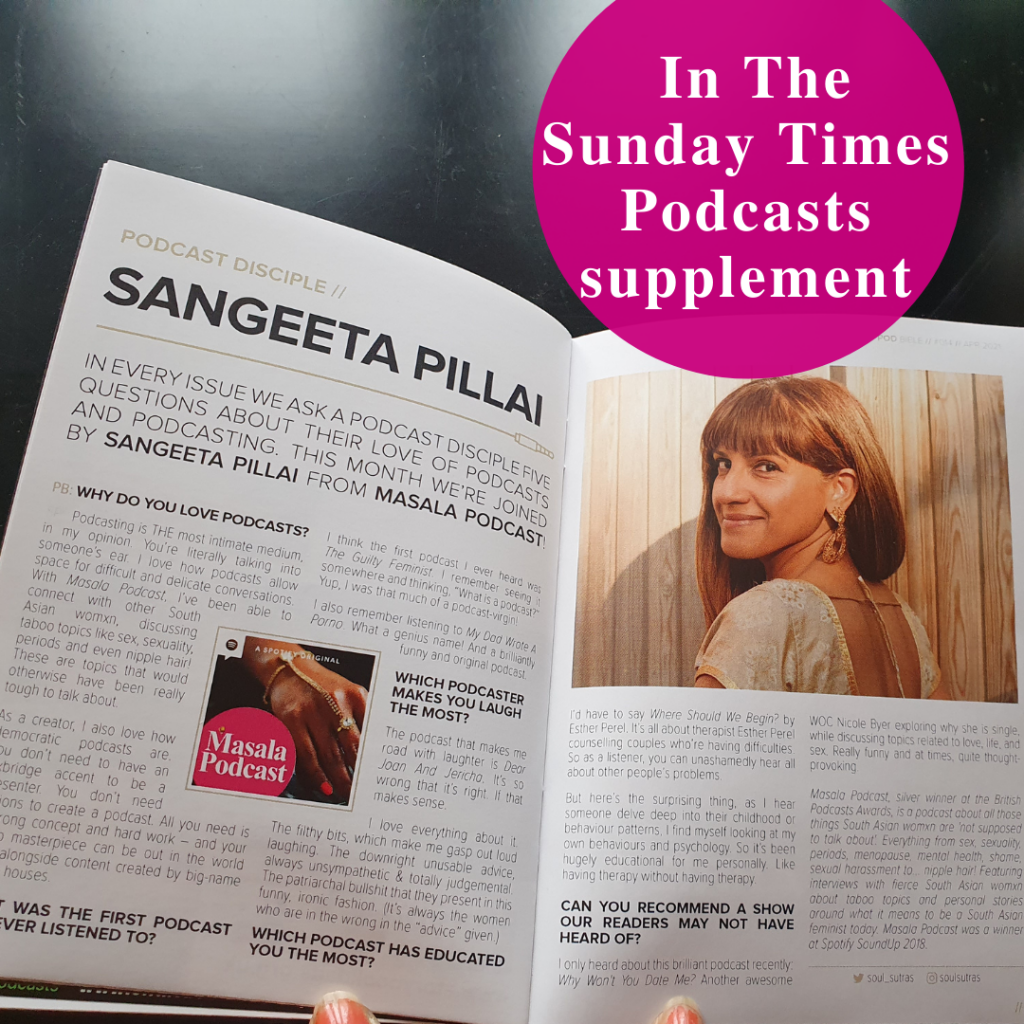 'I May Destroy You' on BBC One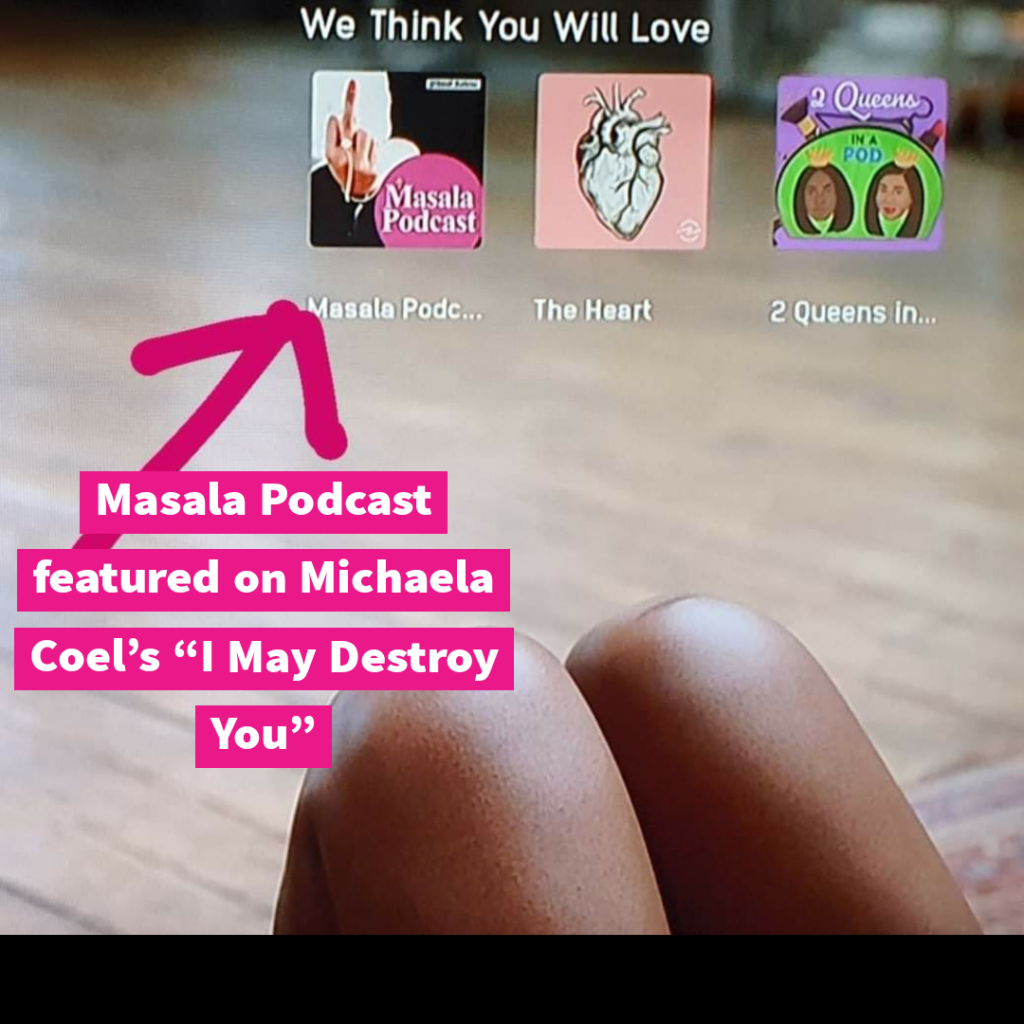 Eastern Eye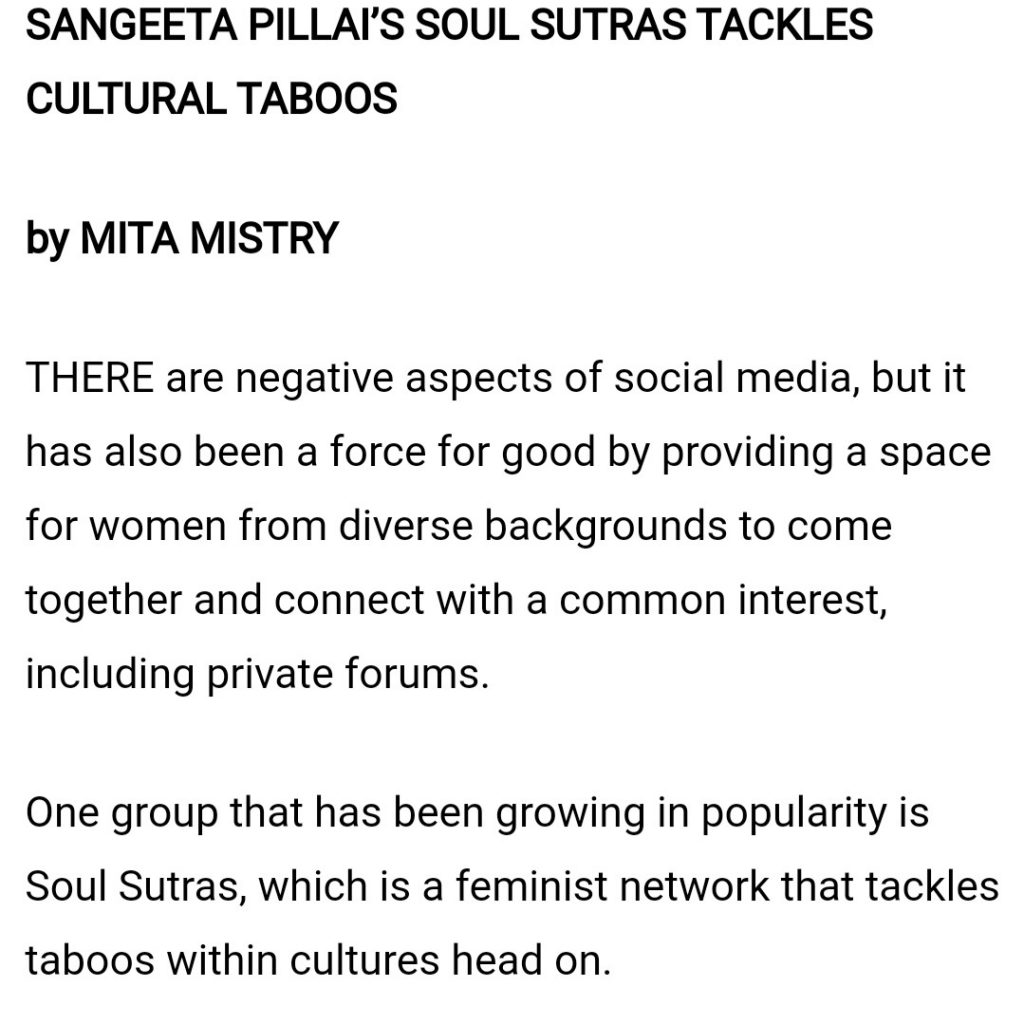 Huffington Post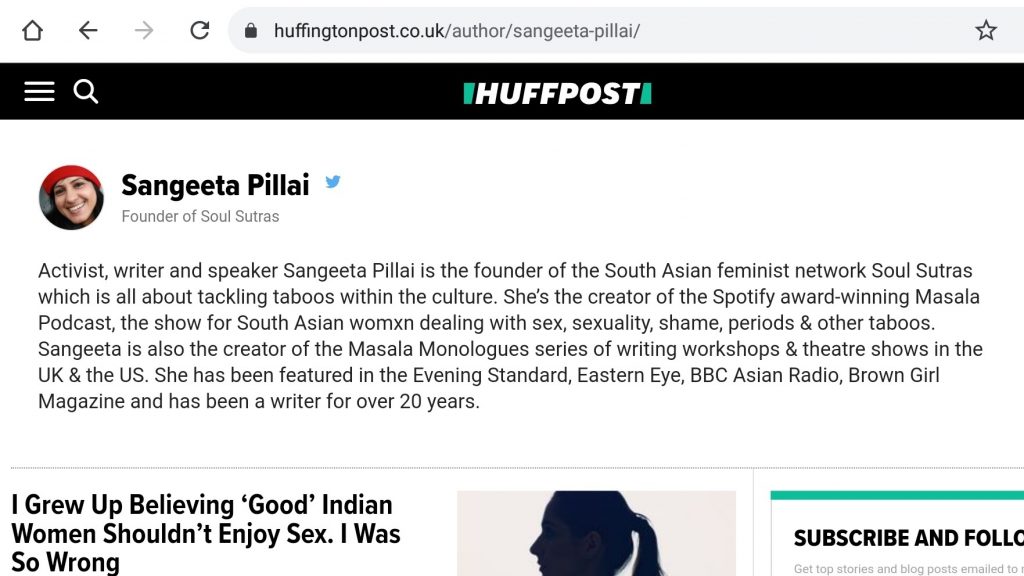 Brown Girl Magazine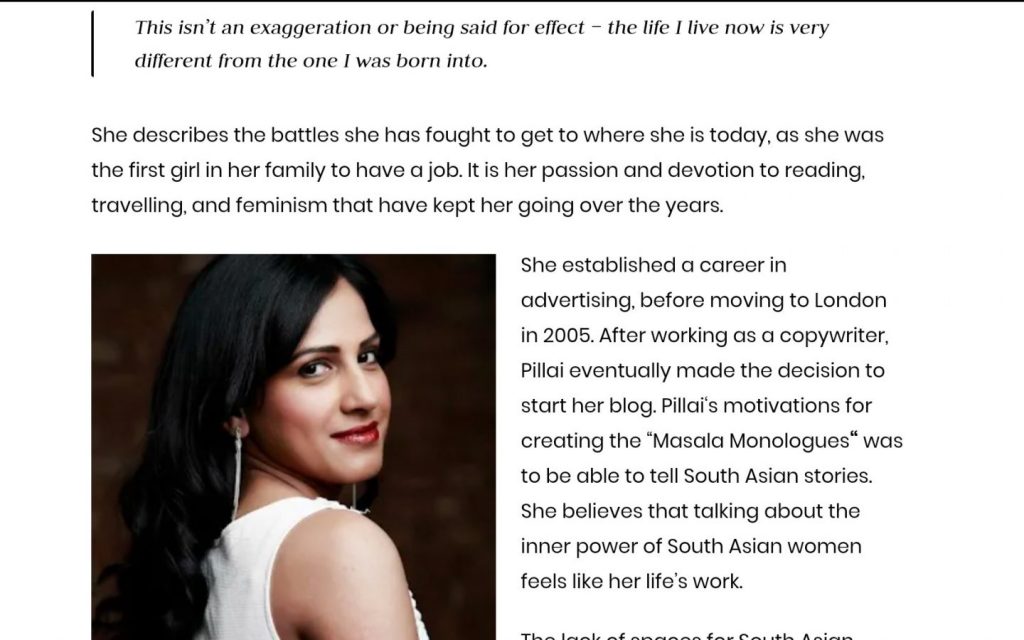 Soundfly: 14 Women Pioneers of Podcasting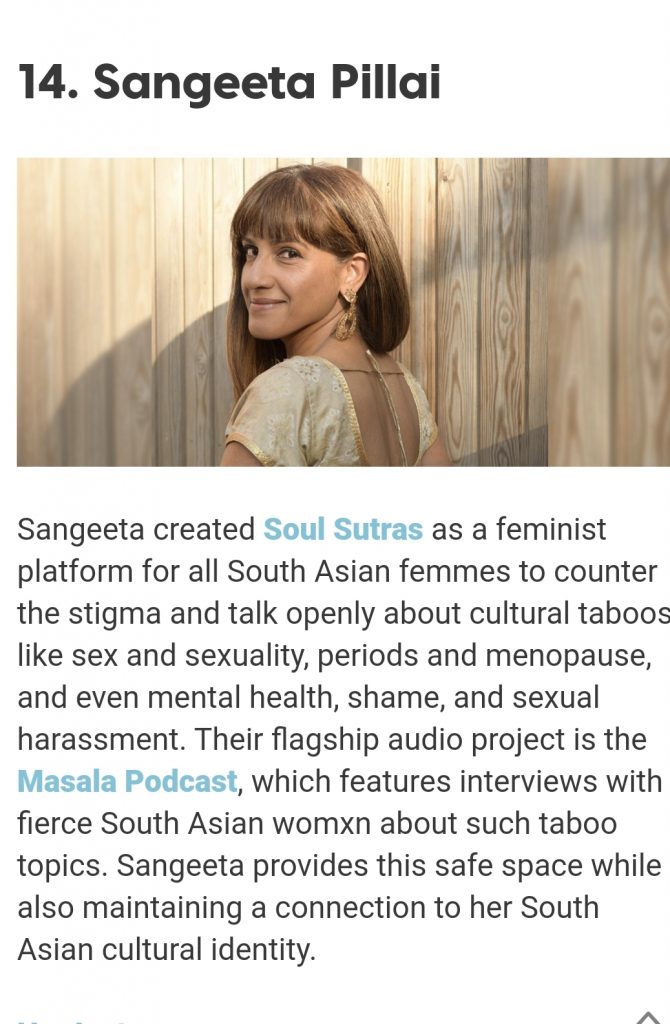 AWARDS
British Podcast Awards Silver, 2020
Masala Podcast was nominated for two British Podcast Awards 2020. Best New Podcast. Best Sex & Relationships Podcast. And we won silver in the 'Best Sex & Relationships Podcast' category. Cue dupattas flying in the air…
Spotify SoundUp 2018
Masala Podcast was one of the winners at the first ever Spotify SoundUp competition in 2018, to discover new WOC podcasters, and change things up in the world of podcasting usually dominated by white cis men.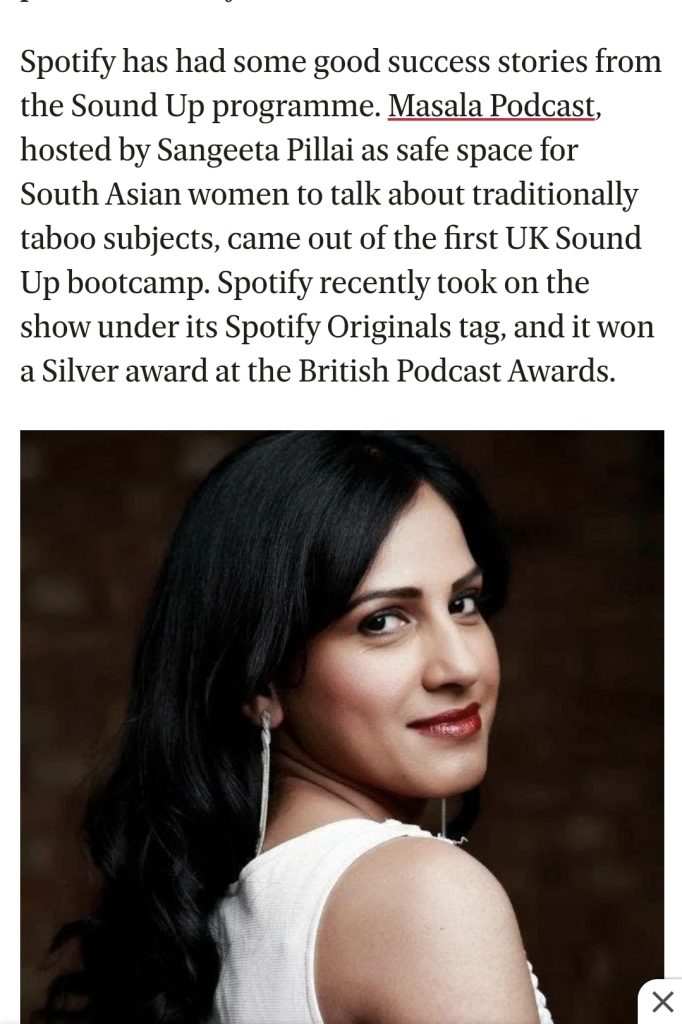 SEASON 3, STARTS 8TH JUNE
GUESTS & THEMES
·ANOUSHKA SHANKAR: One of the world's most famous South Asian musicians, daughter of the legendary Ravi Shankar
Theme: Who Owns A Woman's Body?
·SHOBHA DE: A journalist, a socialite, a scriptwriter, a bestselling novelist and one of India's biggest female celebrities
Theme: Why are older women less valued?
·SEEMA ANAND: A Kamasutra expert and author of book "The Arts of Seduction"
Theme: Is the Kamasutra relevant today?
·RAGA D'SILVA: Queer activist, speaker, writer
Theme: Coming out as queer in your 50s
·LEESA MANGALDAS: One of India's biggest influencers, working to make sex education accessible in South Asian languages
Theme: Let's talk about sex (education)
·JOTI GARA AURA: British Asian influencer campaigning about Vitiligo, which she suffers from
Theme: When will beauty be more inclusive? Beautiful with Vitiligo.
·VANDANA SHAH: One of India's most well-known divorce laywers
Theme: Why is divorce still a stigma in 2021?
·FARAH KABIR: Co-founder of HANX, the first ever female-friendly condom
Theme: Making contraception & sexual health female focussed
·ANITA RANI, BINITA KANE, RUBY BAKHARI, NATASHA: female team behind South Asian Heritage Month, the first ever South Asian heritage festival in the UK
Theme: What does it mean to be a South Asian woman in the UK today?
CONTACT DETAILS
For any further details including hi-res images or podcast details, please contact:
email@soulsutras.co.uk
SOCIALS:
Twitter: Soul_Sutras
Insta: soulsutras
Facebook: SoulSutrasNetwork
YouTube: Soul Sutras