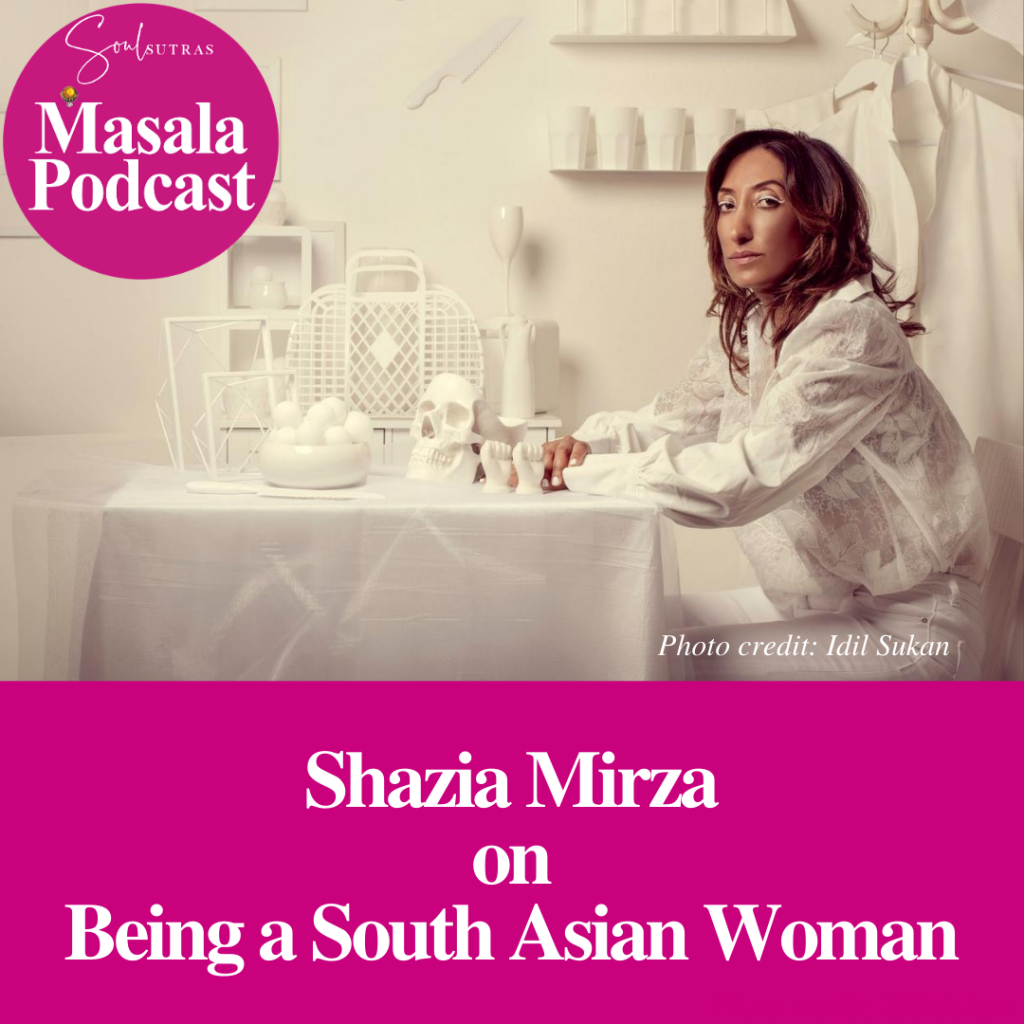 SEASON 2, EPISODE 1
In this episode, I speak with Shazia Mirza, a famous comedian and writer, appearing on Jonathan Ross, Celebrity Island with Bear Gryls, Celebs in Solitary & many more shows. Her new show 'Coconut' will be on tour in 2021. Shazia travels all over the world doing stand-up comedy, is hugely successful but still feels the pressure to produce perfect round chapattis.
Shazia and I speak about some of the issues we've experienced in our culture:
• The expectation to always be the dutiful daughter, to be the quiet subservient one
• The expectation to get married, have kids, look after everyone around us
• How cultural conditioning carries on even with professional successful South Asian womxn
• Anti-blackness that pervades South Asian society, and what can be done to change it
• Getting our names mis-pronounced (Shazia being called 'Shava Minza' has got to be the funniest!)
• How all brown women are lumped into the same person (Shazia talks about being mistaken for everyone from Meera Syal to Malala to her local GP)
MORE ABOUT SHAZIA:
https://www.shazia-mirza.com/
Instagram: @theshaziamirza
Twitter: @shaziamirza1
Listen to Shazia on 'My Teenage Diary' on BBC Radio 4:
http:// https://www.shazia-mirza.com/videos/radio/#/lightbox&slide=1

RESOURCES
Want to explore more about the themes discussed in this episode? Here are some resources/social media accounts that you might find useful:
THE INDIAN FEMINIST
https://www.instagram.com/the_indian_feminist/?hl=en
ASIAN WOMEN FESTIVAL:
https://www.asianwomanfestival.com/
BROWN GIRL MAGAZINE
https://www.browngirlmagazine.com/
BURNT ROTI
https://www.burntroti.com/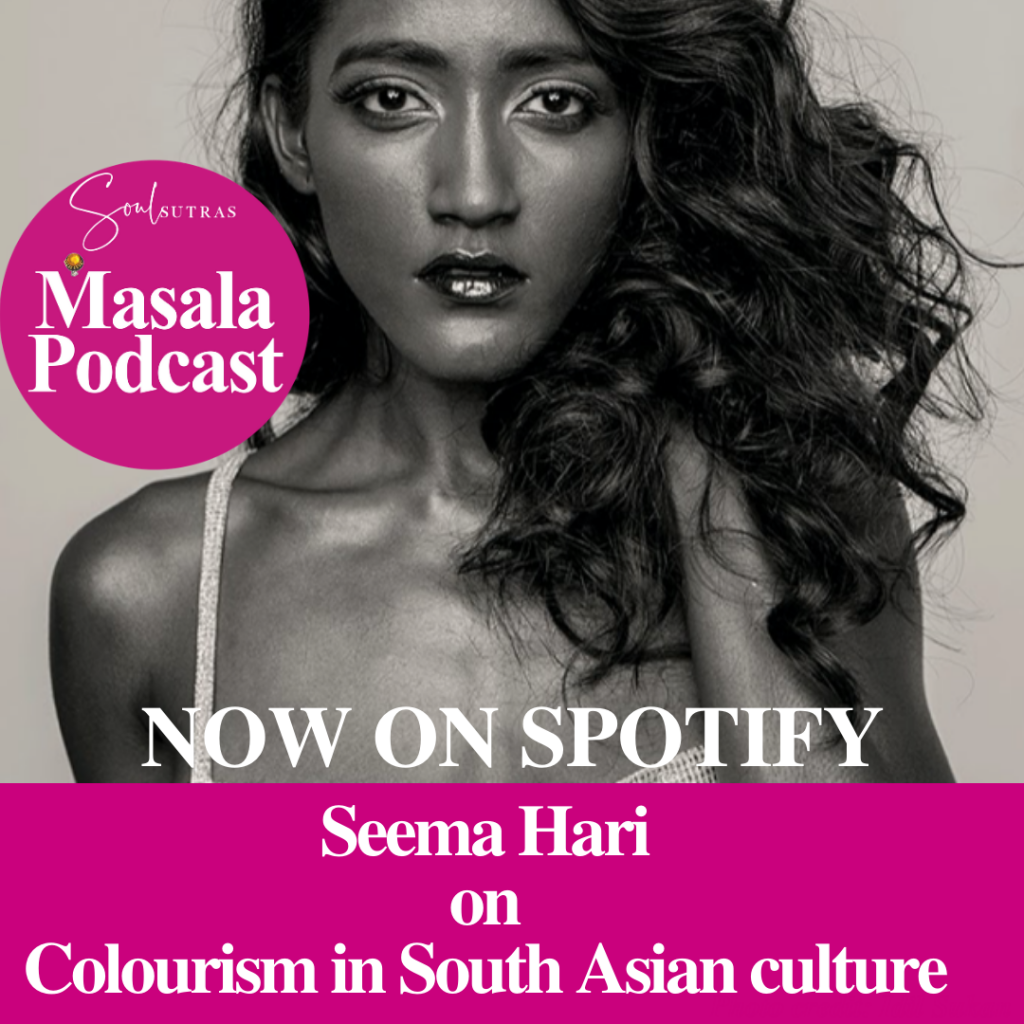 SEASON 2, EPISODE 2
In this episode, I speak with Seema Hari, who is a model, a Software Engineer and a powerful activist fighting colourism.
Seema talks about growing up as a dark skinned Indian girl and the awful way she was treated by teachers and adults around her. She talks about feeling depressed & suicidal because of this. And how she slowly worked towards loving her own skin colour – to become a model and an activist fighting hard to change South Asian attitudes towards dark skin. Seema is a passionate activist fighting colourism in South Asian society, constantly challenging Bollywood actors and government policies.
Together, we explore the South Asian fixation for fairer skin, with millions spent on skin lightening creams and bleaches. We talk about:
* The idea of beauty attached to skin colour
* How the Hindi word for beauty 'gori' translates as white
* How our South Asian obsession with light skin damages life on so many levels
More about Seema Hari

Instagram: @seemahari


RESOURCES
Want to explore more about the issues discussed in this episode? Here are some articles/resources that you might find interesting:
http://www.darkisbeautiful.in/
https://www.theguardian.com/membership/2019/nov/02/colourism-shades-of-black-series-race-issue
https://www.theguardian.com/membership/2019/nov/02/colourism-shades-of-black-series-race-issue
https://www.bbc.com/future/article/20200818-colourism-in-india-the-people-fighting-light-skin-bias
https://www.npr.org/sections/goatsandsoda/2020/07/09/860912124/black-lives-matter-gets-indians-talking-about-skin-lightening-and-colorism?t=1598445136231
https://www.thestar.com.my/lifestyle/family/2020/07/14/many-indian-women-start-using-whitening-products-as-children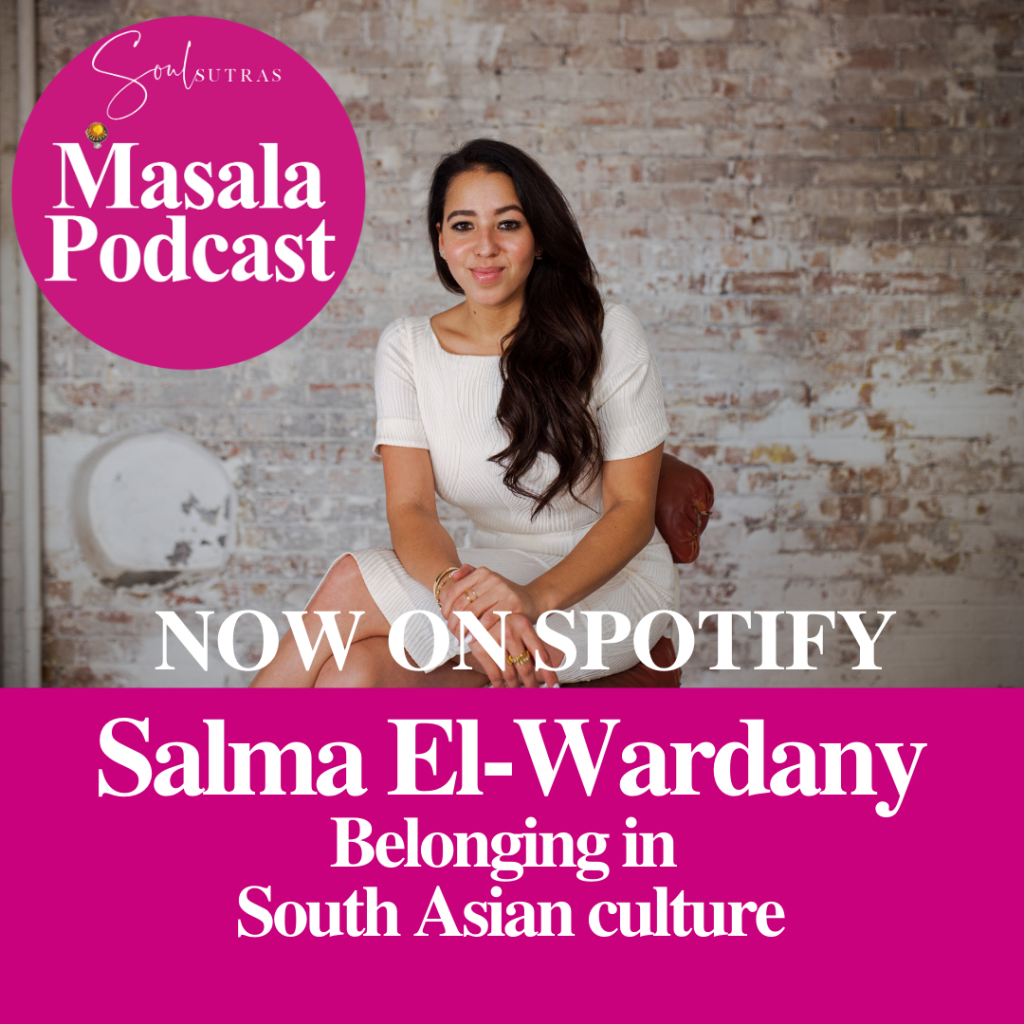 SEASON 2, EPISODE 3
In this episode, I speak with writer, poet, speaker and BBC radio presenter Salma El-Wardany speaks about juggling multiple identities & looking for belonging within those identities. She speaks about her South Asian side and how her 'Desi' identity plays out in her life & her work.
MORE ABOUT SALMA:
Writer, poet, speaker and BBC radio presenter, Salma El-Wardany performs internationally, has given 2 TEDx Talks, worked with Edinburgh University on the Dangerous Woman project, as well as partnering with The British Library and The Wellcome Collection. She's half Egyptian, half Irish and part Desi and regularly works with global brands to raise awareness through poetry and conversation, most recently working with Always on their 'End Period Poverty' campaign. She's also worked with Virgin, Made.com, Bumble, Hinge, Sofar Sounds and Plan International. She writes for Metro, Stylist, Huffpost and Buzzfeed.
Website:
https://www.salmaelwardany.com/
Insta:
@salmaelwardany
Twitter:
@writtenbysalma
RESOURCES
If you've been affected by the themes of this episode, please check out these resources:
REFUGE
https://www.refuge.org.uk/
Freephone 24-Hour National Domestic Abuse Helpline: 0808 2000 247
CITIZENS ADVICE :
https://www.citizensadvice.org.uk/family/gender-violence/domestic-violence-and-abuse-getting-help/
WOMENS AID:
https://www.womensaid.org.uk/
SOLACE:
https://www.solacewomensaid.org/
RIGHTS OF WOMEN:
https://rightsofwomen.org.uk/get-advice/
Specifically for South Asian womxn:
SOUTHALL BLACK SISTERS
https://southallblacksisters.org.uk/
ASIAN WOMEN'S RESOURCE CENTRE
https://www.asianwomencentre.org.uk/
Email: info@awrc.org.uk
Tel: 020 89616549
Winner, British Podcast Awards Silver, 2020
Masala Podcast is a show for South Asian women, where we talk about all those things that we're NOT supposed to talk about in our culture.
• Themes include: sex, sexuality, body shaming, periods, menopause, mental health, nipple hair, shame, sexual harassment and many more taboos.
• Interviews with burlesque dancers, drag queens, mental health specialists, erotic novel lovers, acclaimed writers as well as queer & non-binary actors. And personal stories from Sangeeta Pillai, about growing up as a South Asian womxn.

---
Nominated for two British Podcast Awards
We've got our chuddies in a twist! Masala Podcast was nominated for two British Podcast Awards 2020. Best New Podcast. Best Sex & Relationships Podcast. And we won silver in the 'Best Sex & Relationships Podcast' category. Cue dupattas flying in the air…
---
---