Episode 1: Being a South Asian Woman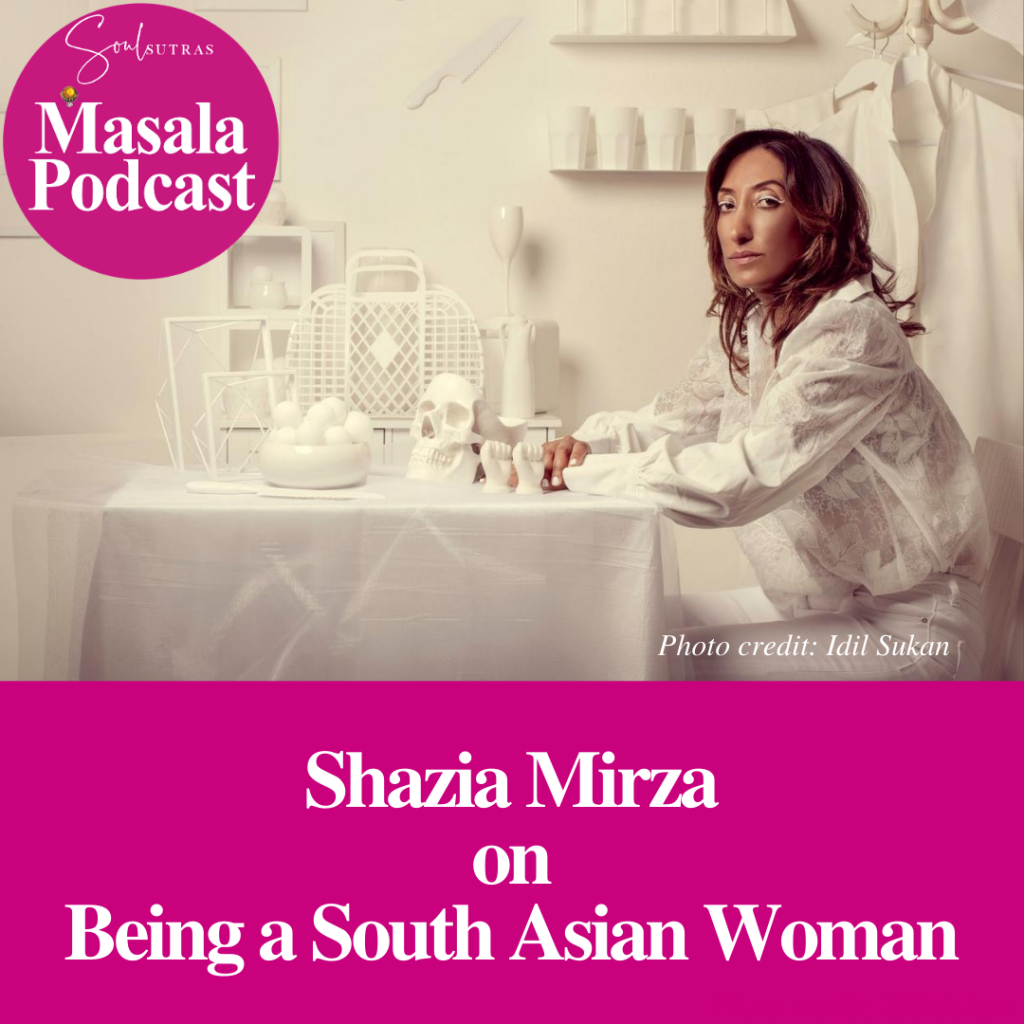 In this episode, I speak with Shazia Mirza, a famous comedian and writer, appearing on Jonathan Ross, Celebrity Island with Bear Gryls, Celebs in Solitary & many more shows. Her new show 'Coconut' will be on tour in 2021. Shazia travels all over the world doing stand-up comedy, is hugely successful but still feels the pressure to produce perfect round chapattis.
Shazia and I speak about some of the issues we've experienced in our culture:
• The expectation to always be the dutiful daughter, to be the quiet subservient one
• The expectation to get married, have kids, look after everyone around us
• How cultural conditioning carries on even with professional successful South Asian womxn
• Anti-blackness that pervades South Asian society, and what can be done to change it
• Getting our names mis-pronounced (Shazia being called 'Shava Minza' has got to be the funniest!)
• How all brown women are lumped into the same person (Shazia talks about being mistaken for everyone from Meera Syal to Malala to her local GP)
MORE ABOUT SHAZIA:
https://www.shazia-mirza.com/
Instagram: @theshaziamirza
Twitter: @shaziamirza1
Listen to Shazia on 'My Teenage Diary' on BBC Radio 4:
http:// https://www.shazia-mirza.com/videos/radio/#/lightbox&slide=1

RESOURCES
Want to explore more about the themes discussed in this episode? Here are some resources/social media accounts that you might find useful:
THE INDIAN FEMINIST
https://www.instagram.com/the_indian_feminist/?hl=en
ASIAN WOMEN FESTIVAL:
https://www.asianwomanfestival.com/
BROWN GIRL MAGAZINE
https://www.browngirlmagazine.com/
BURNT ROTI
https://www.burntroti.com/
Episode 2: Colourism in South Asian Culture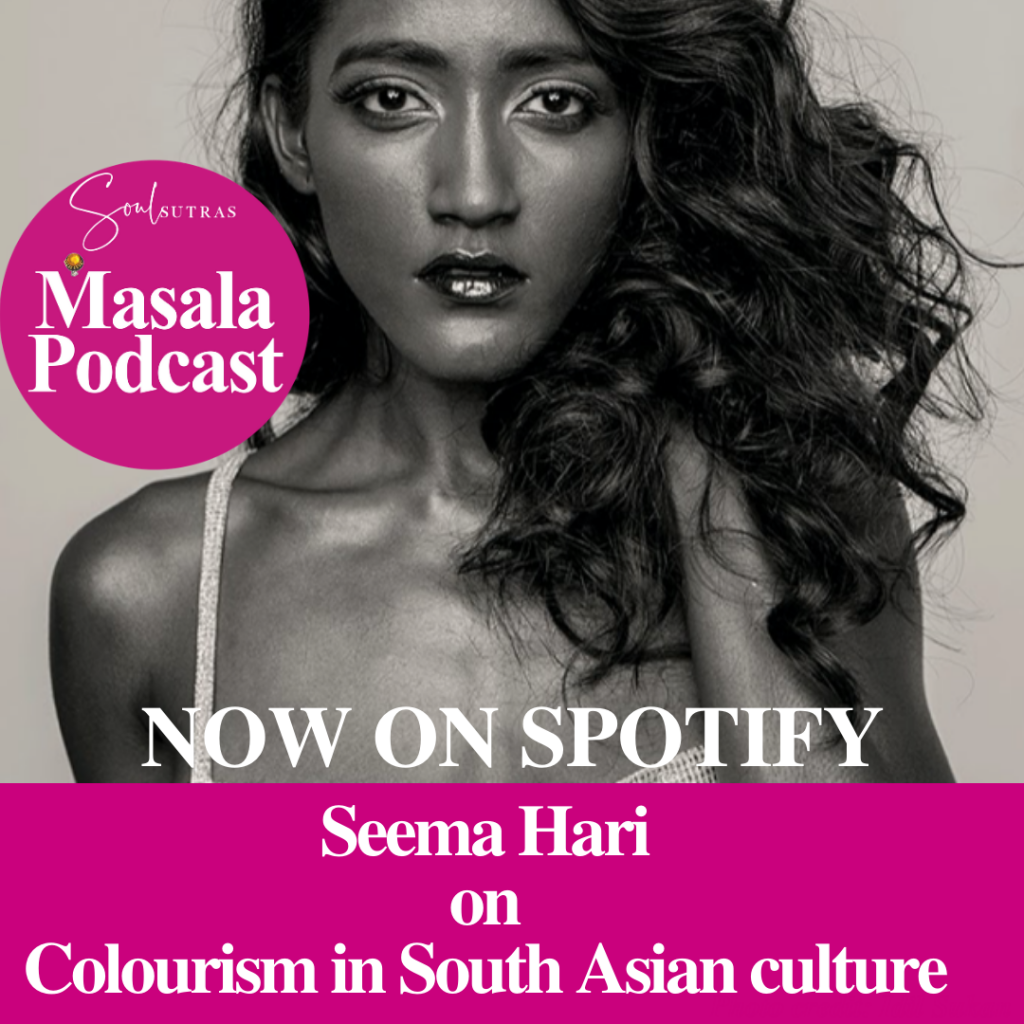 In this episode, I speak with Seema Hari, who is a model, a Software Engineer and a powerful activist fighting colourism.
Seema talks about growing up as a dark skinned Indian girl and the awful way she was treated by teachers and adults around her. She talks about feeling depressed & suicidal because of this. And how she slowly worked towards loving her own skin colour – to become a model and an activist fighting hard to change South Asian attitudes towards dark skin. Seema is a passionate activist fighting colourism in South Asian society, constantly challenging Bollywood actors and government policies.
Together, we explore the South Asian fixation for fairer skin, with millions spent on skin lightening creams and bleaches. We talk about:
* The idea of beauty attached to skin colour
* How the Hindi word for beauty 'gori' translates as white
* How our South Asian obsession with light skin damages life on so many levels
More about Seema Hari
Instagram: @seemahari

RESOURCES
Want to explore more about the issues discussed in this episode? Here are some articles/resources that you might find interesting:
http://www.darkisbeautiful.in/
https://www.theguardian.com/membership/2019/nov/02/colourism-shades-of-black-series-race-issue
https://www.theguardian.com/membership/2019/nov/02/colourism-shades-of-black-series-race-issue
https://www.bbc.com/future/article/20200818-colourism-in-india-the-people-fighting-light-skin-bias
https://www.npr.org/sections/goatsandsoda/2020/07/09/860912124/black-lives-matter-gets-indians-talking-about-skin-lightening-and-colorism?t=1598445136231
https://www.thestar.com.my/lifestyle/family/2020/07/14/many-indian-women-start-using-whitening-products-as-children
Episode 3: Belonging in South Asian Culture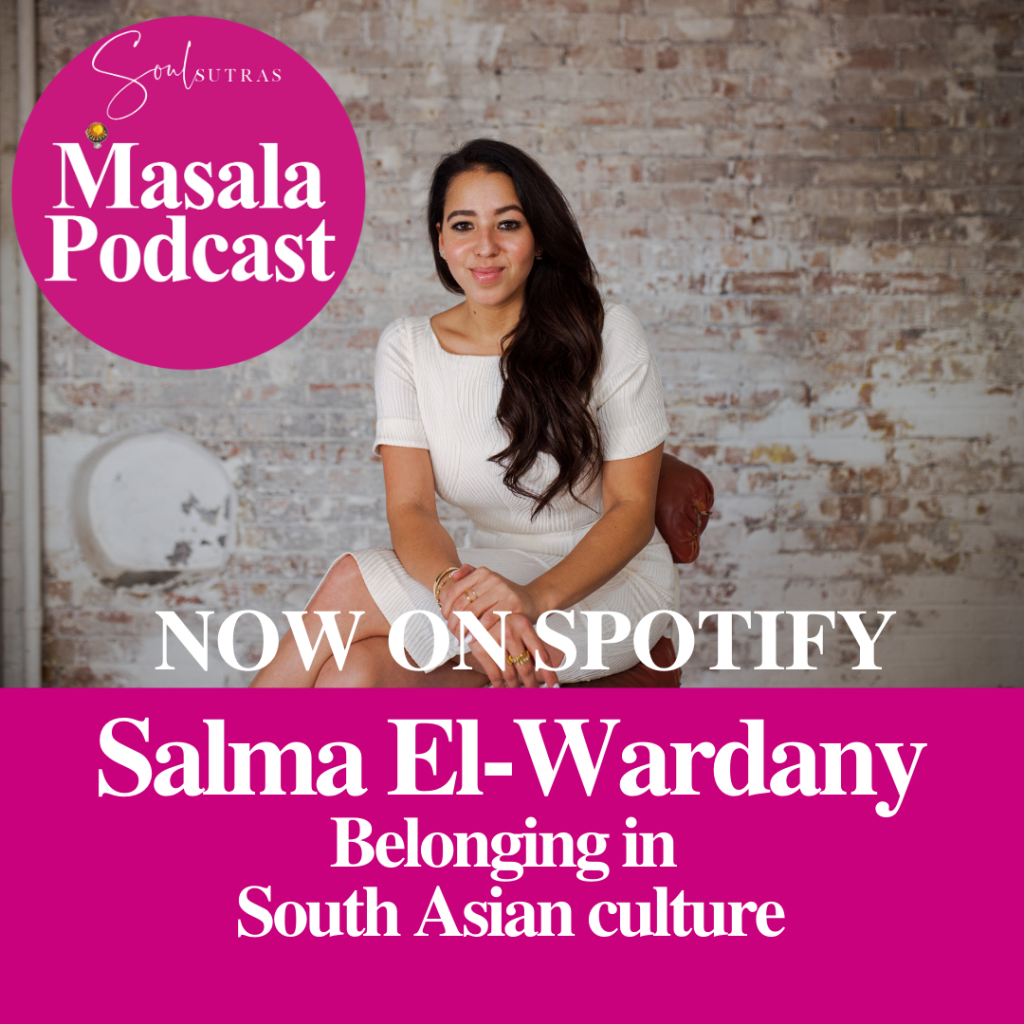 In this episode, I speak with writer, poet, speaker and BBC radio presenter Salma El-Wardany speaks about juggling multiple identities & looking for belonging within those identities. She speaks about her South Asian side and how her 'Desi' identity plays out in her life & her work.
MORE ABOUT SALMA:
Writer, poet, speaker and BBC radio presenter, Salma El-Wardany performs internationally, has given 2 TEDx Talks, worked with Edinburgh University on the Dangerous Woman project, as well as partnering with The British Library and The Wellcome Collection. She's half Egyptian, half Irish and part Desi and regularly works with global brands to raise awareness through poetry and conversation, most recently working with Always on their 'End Period Poverty' campaign. She's also worked with Virgin, Made.com, Bumble, Hinge, Sofar Sounds and Plan International. She writes for Metro, Stylist, Huffpost and Buzzfeed.
Website:
https://www.salmaelwardany.com/
Insta:
@salmaelwardany
Twitter:
@writtenbysalma
RESOURCES
If you've been affected by the themes of this episode, please check out these resources:
REFUGE
https://www.refuge.org.uk/
Freephone 24-Hour National Domestic Abuse Helpline: 0808 2000 247
CITIZENS ADVICE :
https://www.citizensadvice.org.uk/family/gender-violence/domestic-violence-and-abuse-getting-help/
WOMENS AID:
https://www.womensaid.org.uk/
SOLACE:
https://www.solacewomensaid.org/
RIGHTS OF WOMEN:
https://rightsofwomen.org.uk/get-advice/
Specifically for South Asian womxn:
SOUTHALL BLACK SISTERS
https://southallblacksisters.org.uk/
ASIAN WOMEN'S RESOURCE CENTRE
https://www.asianwomencentre.org.uk/
Email: info@awrc.org.uk
Tel: 020 89616549
Episode 4: Porn & South Asian Culture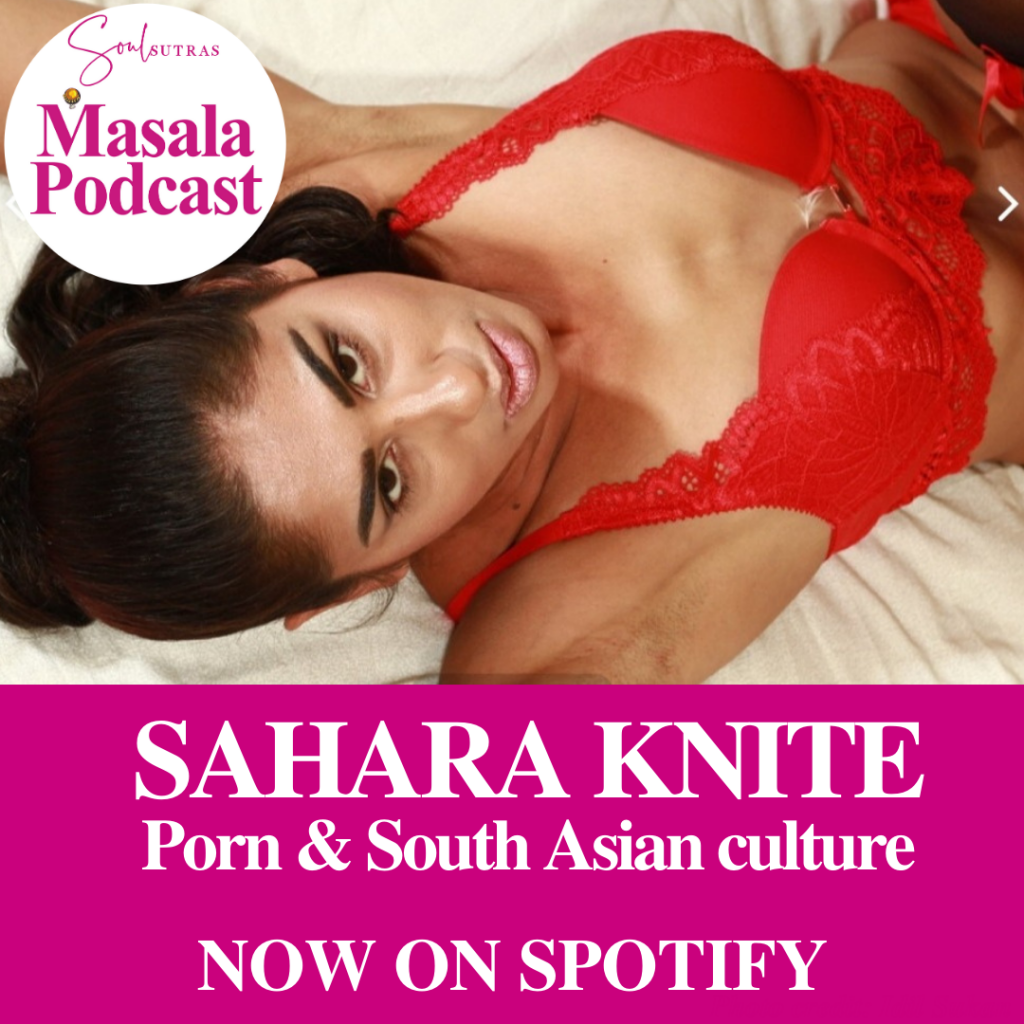 This episode features an interview with the South Asian porn star Sahara Knite.
Sahara and I discuss:
* South Asian fetishes and attitudes towards porn and sex
* Racial stereotyping that plays out in porn* How porn skews our ideas of what a 'perfect' body should be
* How porn has normalised the concept of hairless bodies
Sangeeta talks about her personal experiences watching porn for the first time, when she was growing up in India. She also discusses how porn skews our idea of what the 'perfect porn body' should be. And how porn has normalised the concept that all women have hairless bodies and hairless vulvas. As well as the racial stereotyping that exists in porn.
MORE ABOUT SAHARA:
Website:
https://saharaknite.co.uk/
Insta:
@itsmesaharaknite
Twitter:
@saharaknite
If you're looking for ethical places to enjoy porn:
Episode 5: Rape in South Asian Culture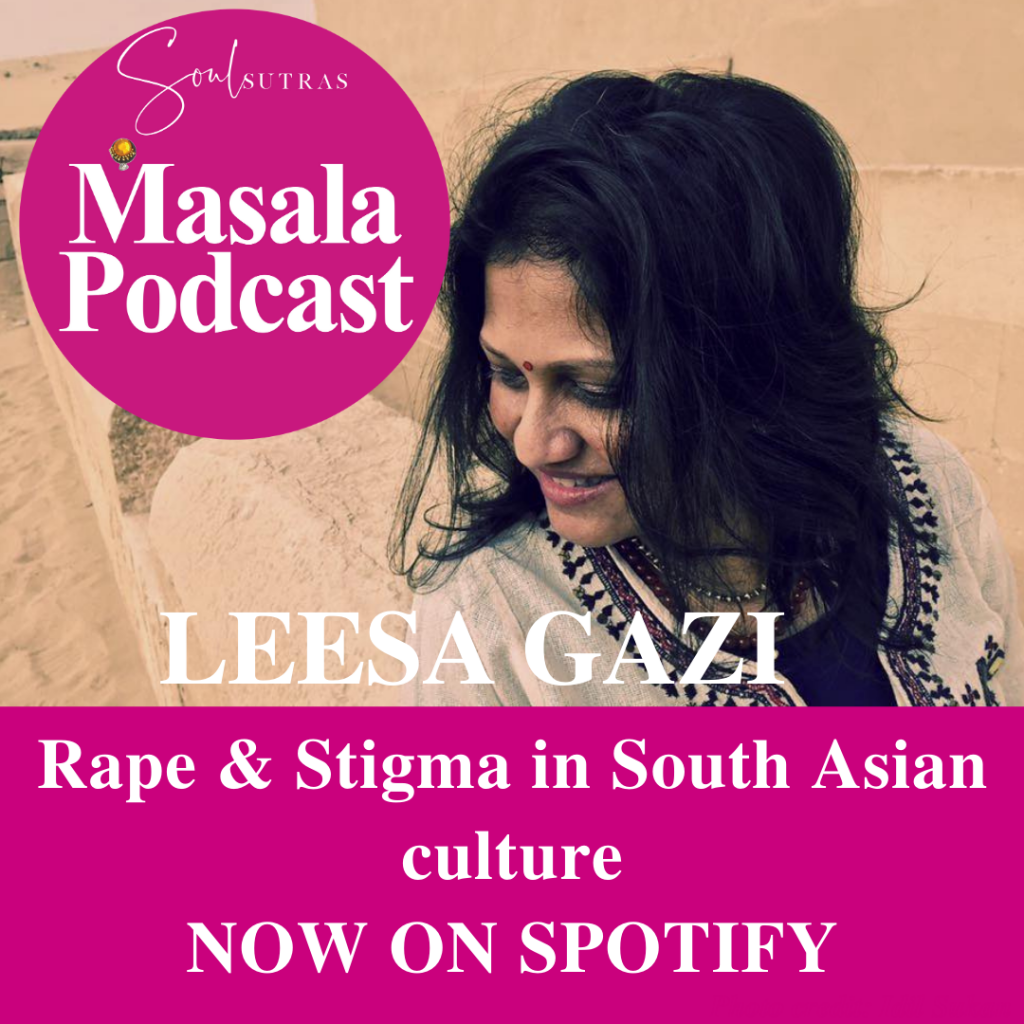 In this episode we talk with Leesa Gazi, who's the director of a critically acclaimed and highly impactful film about survivors of rape in Bangladesh during the war, who are now in their 70's and 80s. Leesa stayed with the women, connected with them and discussed their experiences – and has now turned this into an empathetic and impactful film.

Leesa and I discuss:
How patriarchal attitudes in the culture prevent rape victims from coming forward
The horror and impact of rape on women and young girls in South Asian communities
How the burden of "honour" & "shame" are attached exclusively to women in South Asian culture
ABOUT THE FILM 'RISING SILENCE':
https://www.risingsilence.co.uk/
MORE ABOUT LEESA:
Leesa Gazi is a Bangladeshi-born British writer, actor, filmmaker and Joint Artistic Director of a London based arts company Komola Collective. She is the concept developer, co-writer and performer of the theatre production Birangona: Women of War, which she later developed into the documentary film Rising Silence, which has won multiple international awards. The film sheds light on the lives of rape survivors of the Liberation War of Bangladesh.
Twitter:
@LeesaGazi
Insta:
@leesagazi
RESOURCES
If you've been affected by the themes of this episode, please check out these resources:
RAPE CRISIS
Helpline: 0808 802 9999 (12-2:30 and 7-9:30)
ttp://rapecrisis.org.uk

NHS
https://www.nhs.uk/live-well/sexual-health/help-after-rape-and-sexual-assault/
https://www.nhs.uk/service-search/other-services/Rape%20and%20sexual%20assault%20referral%20centres/LocationSearch/364
VICTIM SUPPORT
Supportline: 0333 300 6389
https://www.victimsupport.org.uk/crime-info/types-crime/rape-and-sexual-assault
THE SURVIVORS TRUST
Helpline: 0808 801 0818
https://www.thesurvivorstrust.org/
SUPPORTLINE
https://www.supportline.org.uk/problems/rape-and-sexual-assault/
Helpline: 01708 765200
Email: info@supportline.org.uk
SAFELINE:
https://www.safeline.org.uk/
Episode 6: Menopause in South Asian Culture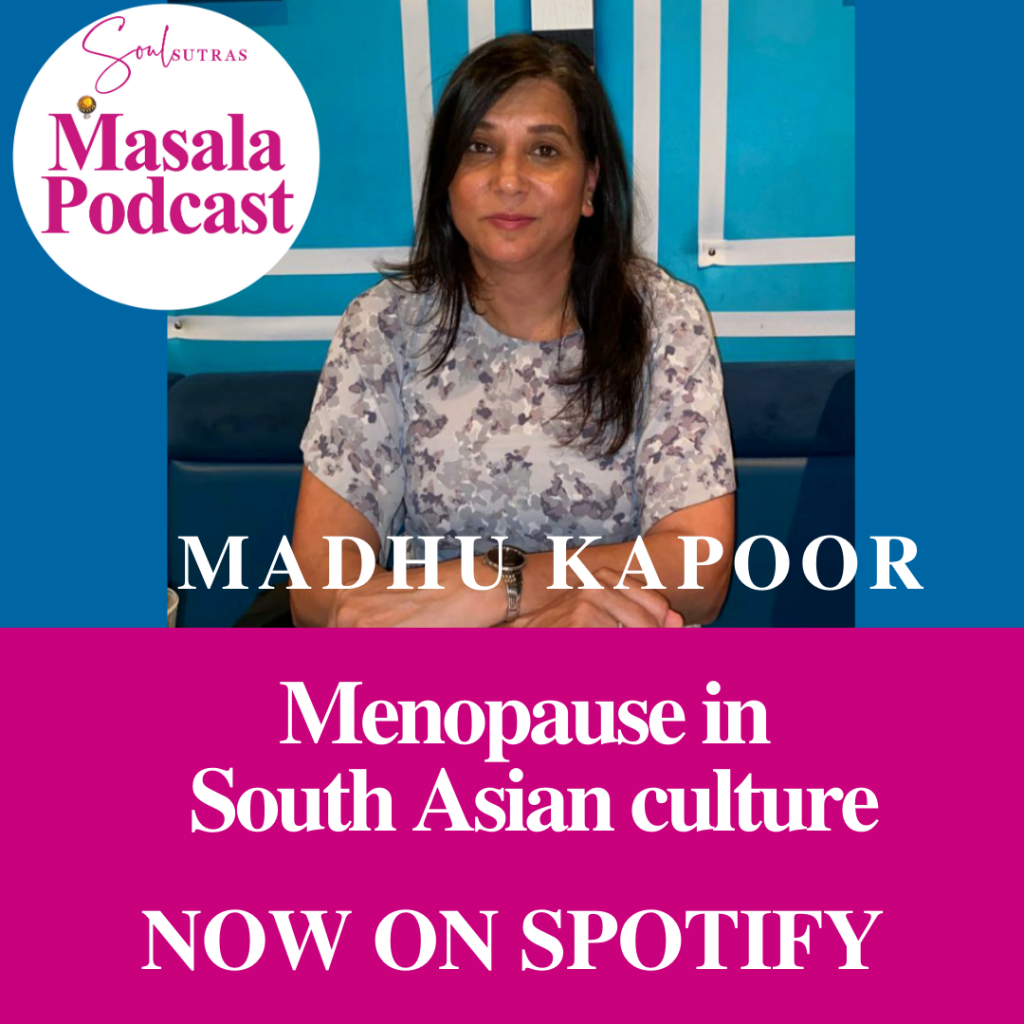 In this episode, I talk with Madhu Kapoor, Founder, M for Menopause who went through a difficult journey through menopause. She found no literature or support when she was struggling. And is now on a mission to get South Asian women talking openly about the menopause.
Sangeeta's monologues talk about how talking about any female bodily functions was such a taboo when she was growing up. In a culture that doesn't discuss periods, or childbirth or sex and how they affect our bodies – talking about menopause is such a long way away.
MORE ABOUT MADHU
Madhu's menopause journey was horrific; she struggled at home, socially and at work. As her symptoms became severe her relationships broke down and affected her life and work. Despite having been surrounded by women all her life, she'd never had any open discussions about the menopause and she really struggled.
This led her to set up M for Menopause which aims to encourage open conversations about the menopause and to increase knowledge, awareness and support for women, employers and families.
Website:
www.mformenopause.co.uk
Insta:
@mformenopause
Facebook:
@mformenopause
RESOURCES
If you've been affected by the themes of this episode, please check out these resources:
https://www.nhs.uk/conditions/menopause/
https://menopausesupport.co.uk/
https://bwc.nhs.uk/menopause-resources/
https://www.nice.org.uk/guidance/ng23/resources/menopause-pdf-718895758021
Episode 7: HIV in South Asian Culture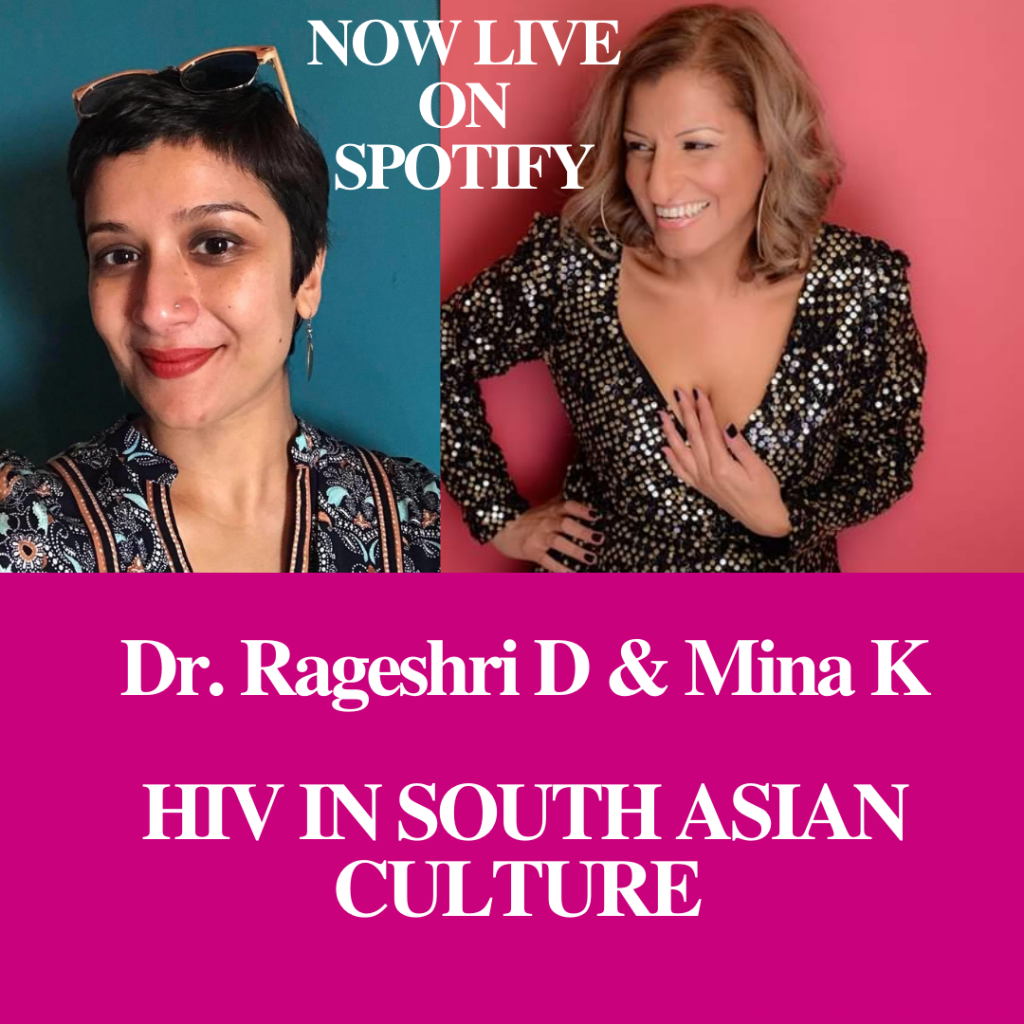 In episode seven, I talk to Dr Rageshri Dhairyawan, an NHS Consultant who's also a Sexual Health & HIV activist, working primarily among South Asian womxn. Many of whom have contracted the virus through their husbands, but are unable to tell anyone because of the stigma around HIV.
Plus an interview with Mina Kakaiya, who's had HIV for 20 years and is now an activist working to help other South Asian womxn tackle the stigma associated with HIV.
Both Rageshri & Mina who have such passion and compassion in their work, help us look at HIV in a totally different way.
We explore: * The shame and secrecy that surround HIV in South Asian culture * How stigma prevents South Asian womxn with HIV seeking support * How shame is such a huge part of South Asian culture

MORE ABOUT RAGESHRI:
Dr Rageshri Dhairyawan is a Consultant in Sexual Health and HIV at Barts Health NHS Trust and an Honorary Senior Lecturer at Queen Mary University of London. Her clinical work, teaching and research focuses on health inequalities, especially on the intersections between health, race and gender. She is an elected trustee of the British HIV Association, medical board member of NAZ, a charity specialising in the sexual health of minority ethnic communities and has recently joined the Race and Health collective. She has recently co-founded SAHAR, the South Asian HIV Advisory Resource and is passionate about reducing the stigma of talking about sex, sexuality and sexual health in South Asian communities in the UK.
Twitter: @crageshri
Insta: @crageshri
MORE ABOUT MEENA:
Meena Kakaiya is a social entrepreneur, speaker, author and wellbeing coach. She is a trainer in mental health, emotional resilience and mindfulness. And has been a volunteer peer mentor with Positively UK and informed national BHVIA HIV standards for Peer Support. She has also been involved in HIV campaigns and national and is an international speaker on HIV.

Twitter: @KakaiyaMina
LinkedIn: @mina-kakaiya
RESOURCES:
If you've been affected by the themes of this episode, please check out these resources:
POSITIVELY UK:
https://positivelyuk.org/
TERRENCE HIGGINS TRUST:
https://www.tht.org.uk/
THE FOODCHAIN:
http://www.foodchain.org.uk/
AIDSMAP ( info on HIV and sexual health)
https://www.aidsmap.com/
Organisations focused on South Asian sexual health:
Naz and Matt Foundation: https://www.nazandmattfoundation.org/
Imaan: http://imaan.org.uk/index.htm
Cysters: http://cysters.org/
Episode 8: Cancer & South Asian Culture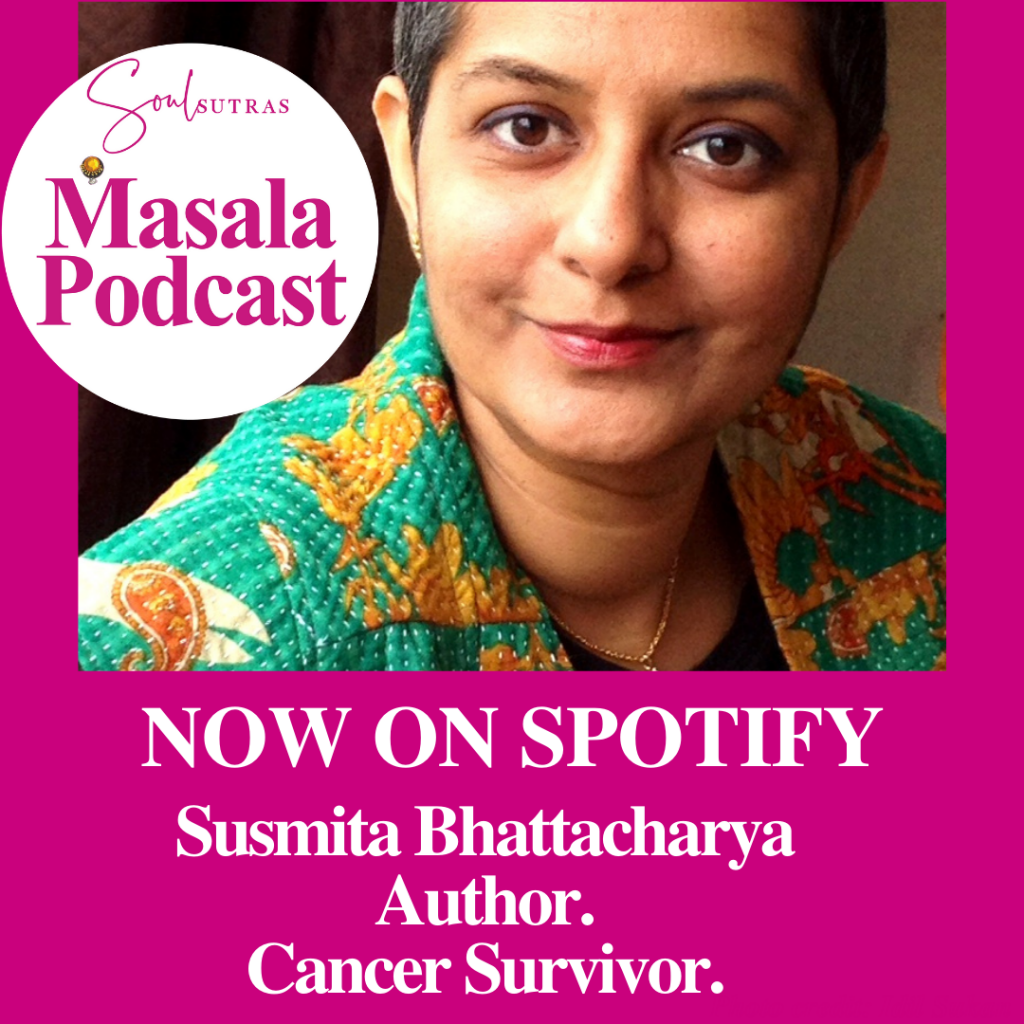 In this episode, I speak with Susmita Bhattacharya. She's an award-winning author with many books to her credit. Her debut novel, The Normal State of Mind, was longlisted for the Mumbai Film Festival prize, Word to Screen. Her short story collection, Table Manners, won the Saboteur Award in 2019 . Susmita's work has been featured in many magazines and BBC Radio 4. She also teaches creative writing at universities and to young people in the community, and has judged many short story competitions.
We talk about the taboo around discussing any major illness in our culture. Particularly, cancer. Susmita shares her own journey of discovering she had cancer, going through chemotherapy, learning to talk about it with her kids. She talks about the silence around the issue within the South Asian community as well as the support she received from some community members.

MORE ABOUT SUSMITA:
Creative Writing Lecturer, Winchester University
Creative Writing faciliator for Mayflower Young Writers, an ArtfulScribe project in collaboration with Mayflower Theatre, Southampton
http://www.artfulscribe.co.uk/blog-category/mayflower-young-writers
Editing services:
https://www.upclose-editing.com
Insta
@susmita_b_writer
Twitter
@susmitatweets
MORE ABOUT SUSMITA'S BOOKS:
http://dahlia-books.kong365.com/en-gb/products/table-manners
https://www.parthianbooks.com/products/the-normal-state-of-mind
"A deliciously bold debut novel … Vivid and tender, funny and bittersweet. It's fearlessly full of surprises about what it meant to be young and female in 1990s India on the cusp of change." Rosie Dastgir, A Small Fortune
Table Manners on BBC Radio 4 Extra:
https://www.bbc.co.uk/programmes/m000dpz8?fbclid=IwAR3NFwKb1VEm905Y34Yl9OGlmhDcfuBS-dJBaNMV3DLpDKT5T9aFHZXiUWQ
"These triumphant, sharp eyed humorous stories mark the arrival of an intriguing new voice; tender, poignant and wry." Irenosen Okojie, Speak Gigantular
RESOURCES:
If you've been affected by the themes of this episode, please check out these resources:
https://community.macmillan.org.uk/
Macmillan phoneline – support available from 9-5, Monday – Friday – 0808 808 0000.
https://www.nhs.uk/service-search/other-services/Cancer%20information%20and%20support/LocationSearch/320
https://preventbreastcancer.org.uk/about-us/asian-womens-health-awareness/
https://www.bbc.co.uk/news/health-40802527
Episode 9: Sex trafficking in South Asia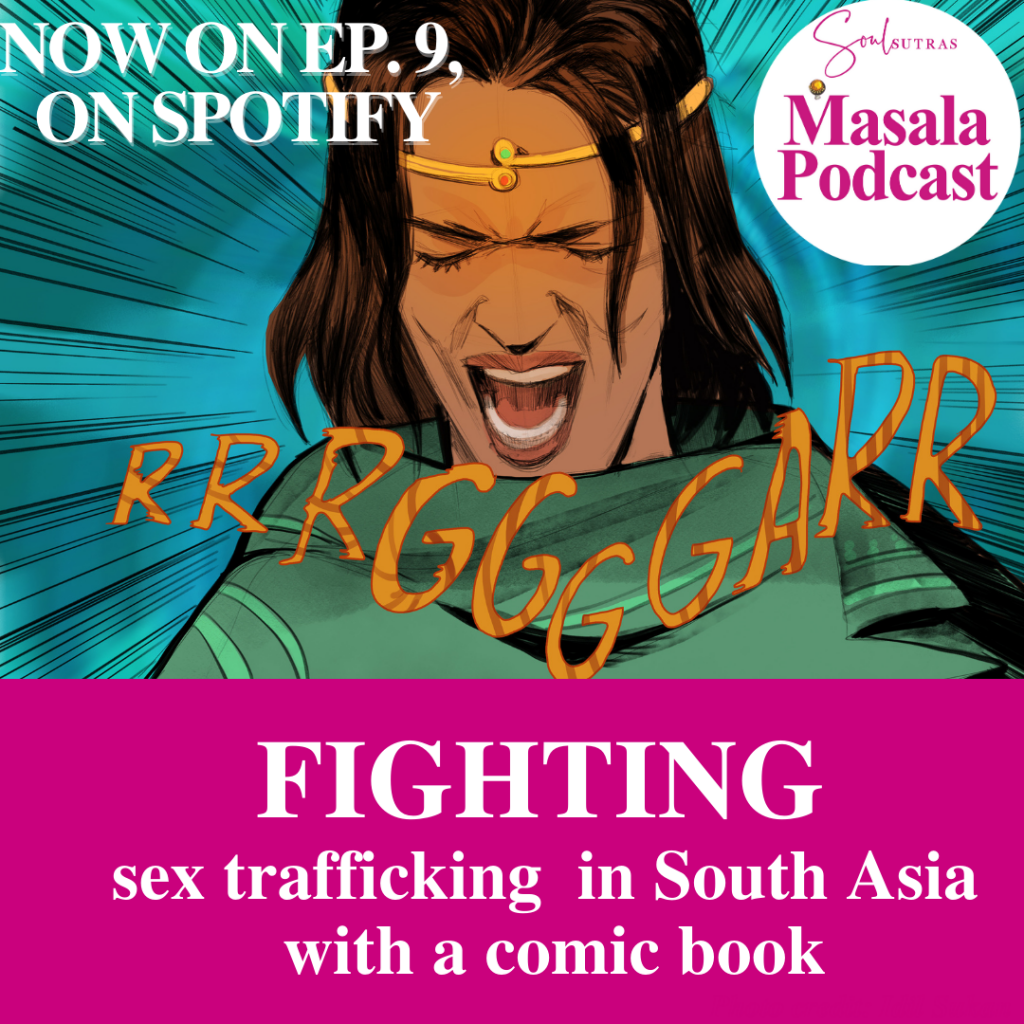 In this episode, I talk with Ram Devineni & Dipti Mehta, who are the creators of the Priya Shakti comic book – which has made the topic of sex trafficking really accessible to younger people. Their project was named "Gender Equality Champion" by UN Women. This is the first ever Indian comic book series tackling serious issues like sexual violence and trafficking of young women by using Augmented Reality technology to appeal to younger audiences.

MORE ABOUT RAM DEVINENI
Ram is the creator of the Priya's Shakti comic book series and named by UN Women as a "gender quality champion". He is a filmmaker who produced, edited and directed the feature documentary, "The Karma Killings," which was shot in India and released on Netflix. Recently, he produced "The Russian Woodpecker," which won the Grand Jury Prize at the 2015 Sundance Film Festival and was nominated for an Independent Spirit Award.
MORE ABOUT DIPTI MEHTA
Dipti is an award winning, actor and writer of the interactive comic book, "Priya and the Lost Girls." She wrote "HONOUR: Confessions of a Mumbai Courtesan," which is an attempt to give voice and a face to brothel dwellers bringing their humanity to encounter that of her audiences, and is now touring internationally, creating awareness about the issues of trafficking and human rights. She best known for her portrayal of Reina in "Life! Camera Action," which brought her multiple international awards and nominations.
MORE ABOUT THE PRIYA SHAKTI SERIES
http:// https://www.priyashakti.com/
RESOURCES
If you've been affected by the themes of this episode, please check out these resources:
https://apneaap.org/
https://www.antislavery.org/
https://www.nationalcrimeagency.gov.uk/what-we-do/crime-threats/modern-slavery-and-human-trafficking
http://www.endslaverynow.org/learn/slavery-today/sex-trafficking
Winner, British Podcast Awards Silver, 2020